Dental Exams & Cleanings in Dallas-Fort Worth, TX
What's the Reason for a Dental Cleaning & Exam?
Cleanings and examinations are performed to ensure that your teeth and gums are in good condition. During a dental exam, the dentist or hygienist will clean your teeth and check for cavities and gum disease.
The exam also includes a risk assessment for other oral disorders as well as a physical examination of your face, neck, and mouth for any abnormalities. A dental exam may include dental X-rays or other diagnostic tests.
Preventative treatment is critical for maintaining your smile's appearance and avoiding the need for intrusive procedures. They should be done every six months and take around an hour in the office to complete. Adults and children of all ages benefit from them.
Why is an Exam & Cleaning Necessary?
Exams look for cavities and other issues that would otherwise go undiscovered if not treated. Cleanings are conducted by hygienists who use special instruments to remove plaque and tartar from the teeth. Exams and expert dental cleanings maintain teeth and gums in good shape. You'll be able to avoid the necessity for additional surgeries and invasive treatments this way.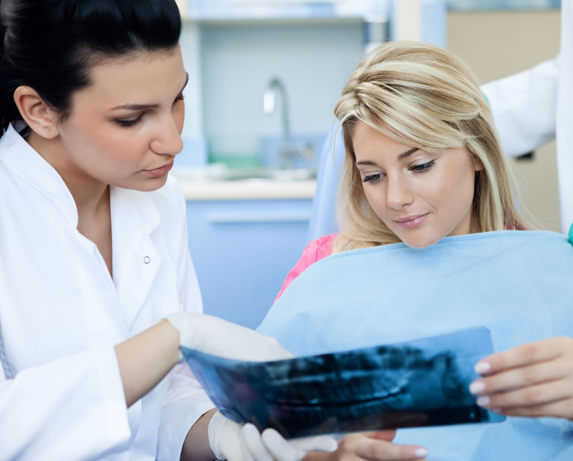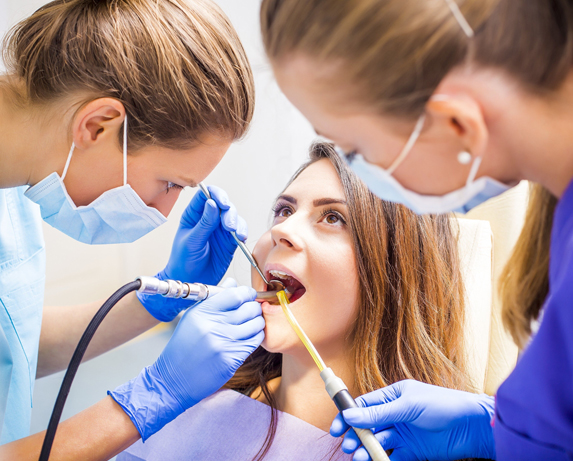 Who's a Candidate for a Dental Cleaning & Exam?
Everyone in your household should visit the dentist twice a year for a cleaning and examination. It is critical to make it a habit to visit the office on a frequent basis to get exams completed.
The process is critical to maintaining your smile's health. Even if you don't have any teeth and wear a full denture, it's a good idea to visit the dentist for an oral examination on a regular basis.
This will allow us to diagnose any concerns with your teeth or gums and provide you with the required therapy. Please don't put off coming to the dentist and call our office to make an appointment now!
Dental Cleanings & Exams Process in Arlington, TX
The first step is to take x-rays, which are used to diagnose and treat a variety of dental issues. The hygienist will then use specialized instruments to remove any plaque and tartar accumulation from the teeth. After that, the teeth will be thoroughly flossed and polished. The doctor then enters the room and conducts the examination. Cavities, troublesome restorations, and oral cancer are all looked for and reported if they are discovered. We can start these operations as soon as we design a treatment plan to help you improve your smile. We can schedule a follow-up cleaning and checkup for you in around six months.
Cleanings and exams are essential for maintaining the health of your teeth and gums! You don't want to skip any of your checkups to avoid concerns like cavities, gum disease, or anything else that could cost you additional money. Call our office now if you need a dental cleaning and exam, and one of our friendly staff members will be happy to help you make an appointment! 
Arlington's Best Dental Cleanings & Exams - Teeth Cleanings Near Me - Affordable Dental Checkups in Arlington, TX
The Proof is in Our Patients
179 5-star reviews in Dallas-Fort Worth, TX and counting…
Had a great experience with Dr. Josh. He was thorough with my dental check up and professional at all times. He informed me of preventative/pro-active measures to maintain health teeth & gums. Likewise, he was able to get rid of calculus/plaque build up on my lower central & lateral incisors. I would recommend him to anyone that is wanting a pleasant time & helpful dentist!FYI - He's the one with the crazy hair and nice beard.
I had an emergency on a Saturday and they were able to get me in immediately, literally within 10 minutes. The staff was friendly and efficient, and diligent about getting my insurance sorted out and explaining costs upfront. Dr. Bolus was awesome in explaining to me the treatment plan and effectively resolved my emergency issue within 30 minutes and made sure I was as comfortable as possible. I came back for my annual cleaning 4 months later and that experience was similarly quick, thorough, efficient and comfortable.
My wife and I came in at 5:00, although they are open until 7pm. It was very easy to get in and be seen!! The Dentist was young but quite knowledgeable! Handsome also, as my wife says. The staff and nurses were very prompt in explaining everything and were great as well. Dr. JOSH is amazing!! Thank you Collins St. Dental!!!
Usually I am very nervous/anxious when going to the dentist but today I felt completely at ease here. Ally was so sweet when I spoke to her to make my appointment and she is just as sweet in person. Everyone there is so kind and Doctor Bolus was the kindest gentleman I've met in Dentistry. I would highly recommend Collin St Dental to everyone!
My first experience was with Ally. I had just moved and a few days later I was in horrible pain. She talked to me and made me feel at ease. Meet with Dr Bolus and he was amazing! He diagnosed the problem and took great care of me. My husband and I have had several visits and have had a great experience with all the staff! They are the best!!