Tooth Extractions in Dallas-Fort Worth, TX
Tooth Removal in Arlington
Extracting a tooth is often vital to the overall health and well-being of our patients' smiles. While many teenagers and adults have their wisdom teeth extracted, there are additional reasons why adult tooth extraction may be required.
Severe tooth decay, infection, damage, or crowding may necessitate a dental extraction. One or two teeth may need to be removed to make room for the other teeth as they shift into place when you get braces.
If you have a tooth that has become a problem, we may recommend completely extracting it. This involves removing one or more of your teeth completely and permanently. The tooth can then no longer pose a problem to your oral health.
Why are Tooth Extractions Needed?
Extractions might be needed for a variety of reasons. We try our best to save a tooth whenever possible, but some extractions are simply unavoidable. Some reasons you may need an extraction include:
Impacted wisdom teeth
Loose teeth
Severe decay
A tooth has broken below the gum line
You're undergoing extensive orthodontic treatment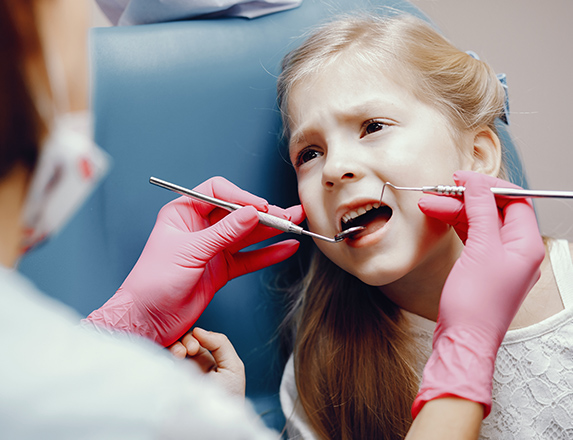 Candidates for Tooth Extractions
We will conduct an examination to decide whether or not an extraction is required. We frequently make every effort to provide alternative treatment options in order to avoid the need for tooth extraction.
By avoiding an extraction, we can prevent the formation of a gap and the subsequent loss of underlying bone. However, there are times when an extraction is required and should be performed immediately.
Give our office a call to get your teeth examined to see if you are in need of a tooth extraction. Our friendly staff will be able to help you schedule your appointment to get teeth looked at!
Tooth Extractions Process in Arlington, TX
To make the surgery more comfortable, we will administer either local or general anesthetic. The tooth is then completely removed from the mouth. Sutures may be used if they are required. We then work to stop the bleeding by covering the surgical site with gauze. If you underwent full sedation, you will need someone to drive you home from the appointment. In a week or two, the gums will heal.
If you experience any problems after the tooth has been removed, it is important that you contact us as soon as possible so that we can provide the best treatment possible.
Tooth extractions can be a stressful process, but our team makes sure you are comfortable throughout the whole process. If you suspect that one of your teeth needs to be removed, call us today and our staff members can answer all of your questions. We will be able to get you scheduled as soon as possible and get you out of any pain you might be experiencing. 
Arlington's Tooth Removal Dentist - Tooth Extractions Near Me - Wisdom Tooth Extraction in Arlington, TX
The Proof is in Our Patients
179 5-star reviews in Dallas-Fort Worth, TX and counting…
Had a great experience with Dr. Josh. He was thorough with my dental check up and professional at all times. He informed me of preventative/pro-active measures to maintain health teeth & gums. Likewise, he was able to get rid of calculus/plaque build up on my lower central & lateral incisors. I would recommend him to anyone that is wanting a pleasant time & helpful dentist!FYI - He's the one with the crazy hair and nice beard.
I had an emergency on a Saturday and they were able to get me in immediately, literally within 10 minutes. The staff was friendly and efficient, and diligent about getting my insurance sorted out and explaining costs upfront. Dr. Bolus was awesome in explaining to me the treatment plan and effectively resolved my emergency issue within 30 minutes and made sure I was as comfortable as possible. I came back for my annual cleaning 4 months later and that experience was similarly quick, thorough, efficient and comfortable.
My wife and I came in at 5:00, although they are open until 7pm. It was very easy to get in and be seen!! The Dentist was young but quite knowledgeable! Handsome also, as my wife says. The staff and nurses were very prompt in explaining everything and were great as well. Dr. JOSH is amazing!! Thank you Collins St. Dental!!!
Usually I am very nervous/anxious when going to the dentist but today I felt completely at ease here. Ally was so sweet when I spoke to her to make my appointment and she is just as sweet in person. Everyone there is so kind and Doctor Bolus was the kindest gentleman I've met in Dentistry. I would highly recommend Collin St Dental to everyone!
My first experience was with Ally. I had just moved and a few days later I was in horrible pain. She talked to me and made me feel at ease. Meet with Dr Bolus and he was amazing! He diagnosed the problem and took great care of me. My husband and I have had several visits and have had a great experience with all the staff! They are the best!!