Professional Teeth Whitening in Dallas-Fort Worth, TX
What is Teeth Whitening?
Whitening has long been used to remove stains and discoloration from natural teeth by lifting and dissolving them. We employ a number of professional whitening solutions, both in-office and at home, to get quick and effective results. Whitening is a procedure that can be used to remove years of stains and give you a whiter, more sparkling smile. You may wish to whiten your teeth before a special occasion or simply to increase your self-esteem.
Why is Teeth Whitening Needed?
If you have deep staining and discoloration, whitening may be necessary. Because of age or because you smoke or drink a lot of staining beverages, your teeth may become dull and yellow. Regardless of the reason why your teeth are stained, one of our tried-and-true whitening techniques can help you achieve the results you desire. Our whitening products are made with high-quality components that are significantly superior to those found in drugstores.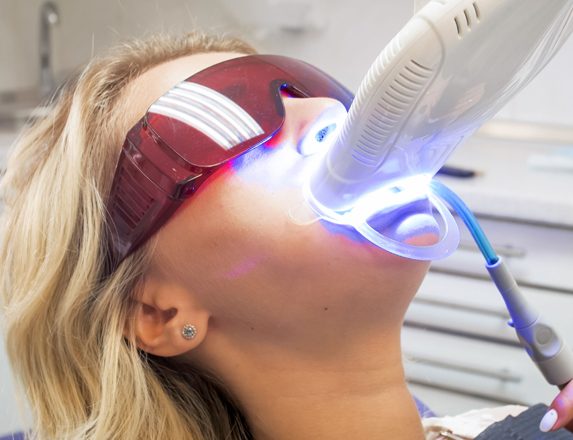 Who's a Candidate for Teeth Whitening?
Whitening can and will assist every patient who wishes to whiten their natural teeth. Professional teeth whitening can only be used on real teeth. This means it won't modify the color of your existing restorations, including veneers, crowns, bridges, or fillings. To undertake the whitening procedure, you must have healthy teeth.
Affordable Teeth Whitening in Arlington, TX
We offer whitening services for both in-office and at home. The at-home method requires the taking of imprints in order to create your own whitening trays. These can be used at home alongside the patented whitening gel that we provide. In-office whitening is effective because it takes roughly an hour to complete. You won't have to wait days or weeks to notice a big change in your smile's color. We can give you information about your results as well as the best strategies to keep them at home.
For people who want a brighter smile, there are a variety of products and techniques available, and with so many alternatives accessible, whether at the dentist or in the store, it can be tough to choose the method that is right for you. Schedule an appointment with our staff to discuss the differences between in-office professional whitening and at-home whitening methods and which is best for you. If you want to know more about teeth whitening, give our clinic a call today and we'll be happy to answer all of your questions.
Arlington's Best Cosmetic Dentist – Teeth Bleaching Near Me – Professional Teeth Whitening in Arlington, TX
The Proof is in Our Patients
179 5-star reviews in Dallas-Fort Worth, TX and counting…
Had a great experience with Dr. Josh. He was thorough with my dental check up and professional at all times. He informed me of preventative/pro-active measures to maintain health teeth & gums. Likewise, he was able to get rid of calculus/plaque build up on my lower central & lateral incisors. I would recommend him to anyone that is wanting a pleasant time & helpful dentist!FYI - He's the one with the crazy hair and nice beard.
I had an emergency on a Saturday and they were able to get me in immediately, literally within 10 minutes. The staff was friendly and efficient, and diligent about getting my insurance sorted out and explaining costs upfront. Dr. Bolus was awesome in explaining to me the treatment plan and effectively resolved my emergency issue within 30 minutes and made sure I was as comfortable as possible. I came back for my annual cleaning 4 months later and that experience was similarly quick, thorough, efficient and comfortable.
My wife and I came in at 5:00, although they are open until 7pm. It was very easy to get in and be seen!! The Dentist was young but quite knowledgeable! Handsome also, as my wife says. The staff and nurses were very prompt in explaining everything and were great as well. Dr. JOSH is amazing!! Thank you Collins St. Dental!!!
Usually I am very nervous/anxious when going to the dentist but today I felt completely at ease here. Ally was so sweet when I spoke to her to make my appointment and she is just as sweet in person. Everyone there is so kind and Doctor Bolus was the kindest gentleman I've met in Dentistry. I would highly recommend Collin St Dental to everyone!
My first experience was with Ally. I had just moved and a few days later I was in horrible pain. She talked to me and made me feel at ease. Meet with Dr Bolus and he was amazing! He diagnosed the problem and took great care of me. My husband and I have had several visits and have had a great experience with all the staff! They are the best!!