Dental Veneers in Dallas-Fort Worth, TX
Dental Veneers in Arlington
Dental veneers are thin shells made of tooth-colored materials like porcelain that are made specifically for each patient. They're designed to hide your front teeth. Veneers can improve the front appearance of your smile. They may conceal blemishes and flaws that make you feel self-conscious about your appearance. Even though veneers are made of thin porcelain, they are quite durable and can last for more than a decade. Your veneers are custom-made to match the color of your teeth and appear completely natural.
Why May Porcelain Veneers be Needed?
Veneers could be utilized to prepare for a particular occasion or a huge event. Veneers can be desired by brides who want to look their finest on their wedding day. Similarly, you may only prefer veneers if you are dissatisfied with the appearance of your teeth. Veneers are a viable option to other cosmetic procedures due to their durability, and they can be a fantastic way to fix your smile!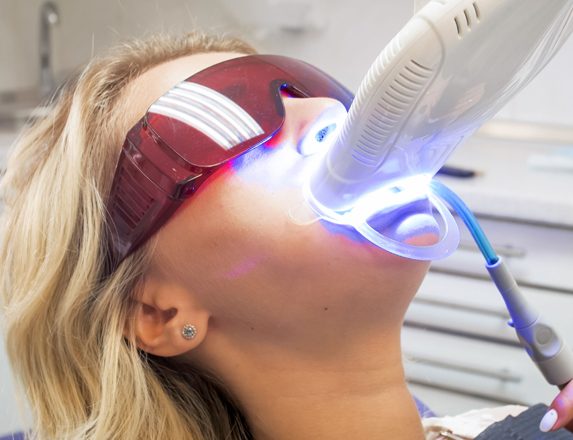 If you have otherwise healthy teeth but want to improve the appearance of your smile, veneers are a great option. We'll examine your teeth to determine if porcelain veneers are right for you and how to apply them. Your veneers are more durable than other options because they can endure for years. You may rest assured that your veneers will appear natural and will endure a long time, ensuring that your smile remains in excellent condition!
Affordable Porcelain Veneers in Arlington, TX
We'll make room for the new veneers by polishing the front of the teeth. We take impressions of your teeth so that we can custom-make porcelain veneers for you. You'll return for a second visit, during which the veneers will be placed and the fit and feel adjusted. To get the ideal aesthetic outcome, your doctor may need to prepare your tooth before inserting your new veneers. When your veneers are placed, you will notice that they seem quite similar to your actual teeth!
The procedure is quick, and you'll walk out of the office with a smile you'll be proud to show off to others. You may brush and floss your veneers just like any other tooth, and it's crucial to do so even if they're on your front teeth. Although your new dental veneers are stain-resistant, we may advise you to avoid coffee, tea, red wine, and tobacco to keep your new smile looking its best. If you think you'd benefit from veneers and want to come in for a consultation, give us a call right now and one of our friendly staff members would be happy to assist you!
Arlington's Top-Rated Cosmetic Dentist - Affordable Dental Veneers Near Me – High Quality Porcelain Veneers in Arlington, TX
The Proof is in Our Patients
179 5-star reviews in Dallas-Fort Worth, TX and counting…
Had a great experience with Dr. Josh. He was thorough with my dental check up and professional at all times. He informed me of preventative/pro-active measures to maintain health teeth & gums. Likewise, he was able to get rid of calculus/plaque build up on my lower central & lateral incisors. I would recommend him to anyone that is wanting a pleasant time & helpful dentist!FYI - He's the one with the crazy hair and nice beard.
I had an emergency on a Saturday and they were able to get me in immediately, literally within 10 minutes. The staff was friendly and efficient, and diligent about getting my insurance sorted out and explaining costs upfront. Dr. Bolus was awesome in explaining to me the treatment plan and effectively resolved my emergency issue within 30 minutes and made sure I was as comfortable as possible. I came back for my annual cleaning 4 months later and that experience was similarly quick, thorough, efficient and comfortable.
My wife and I came in at 5:00, although they are open until 7pm. It was very easy to get in and be seen!! The Dentist was young but quite knowledgeable! Handsome also, as my wife says. The staff and nurses were very prompt in explaining everything and were great as well. Dr. JOSH is amazing!! Thank you Collins St. Dental!!!
Usually I am very nervous/anxious when going to the dentist but today I felt completely at ease here. Ally was so sweet when I spoke to her to make my appointment and she is just as sweet in person. Everyone there is so kind and Doctor Bolus was the kindest gentleman I've met in Dentistry. I would highly recommend Collin St Dental to everyone!
My first experience was with Ally. I had just moved and a few days later I was in horrible pain. She talked to me and made me feel at ease. Meet with Dr Bolus and he was amazing! He diagnosed the problem and took great care of me. My husband and I have had several visits and have had a great experience with all the staff! They are the best!!