Full Mouth Reconstruction in Dallas-Fort Worth, TX
Arlington's Top Restoration Dentist
Patients regularly express their displeasure with their teeth's appearance. You may be missing teeth or have decaying, cracked, chipped, or overly discolored teeth. If you want to feel better about yourself, it's time to consider a smile makeover. These makeovers enhance and beautify your smile while also improving your oral health.
A Smile Makeover Can Restore Your Smile!
Smile makeovers may be necessary if you have a lot of dental issues and wish to improve your appearance. They're especially useful for people who are missing a lot of teeth or are unhappy with the way their smile looks. The whole mouth reconstruction for each patient is tailored and personalized to match their unique needs. No two smile makeovers are the same since each patient is different when they come into our office.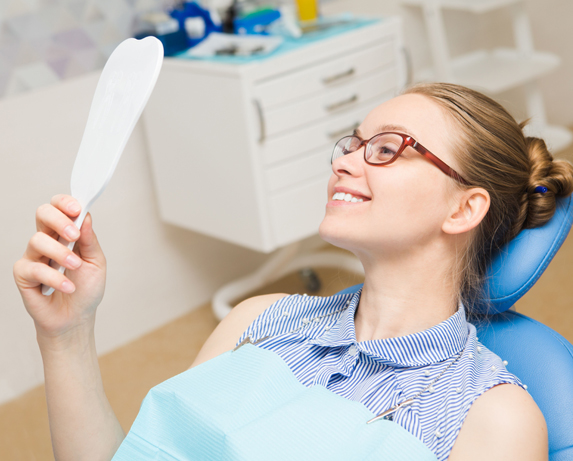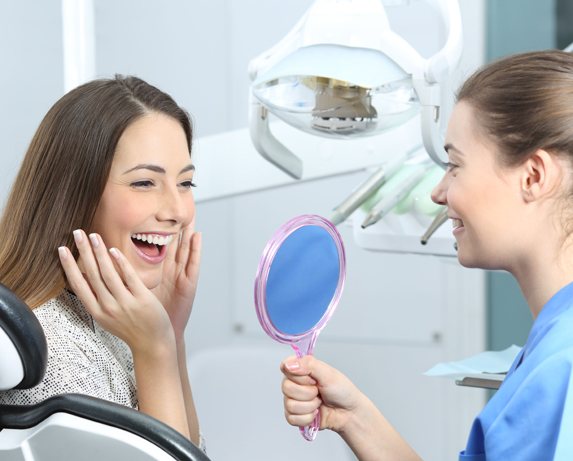 Candidates for a Full Mouth
Anyone who wants to improve and change their appearance can consider a smile makeover. Based on an examination and x-rays, we'll create a treatment plan personalized to your smile objectives and needs. We constantly consider the patient's budget and insurance constraints before initiating any therapy. Treatment can take anything from a few months to a few years, but we'll make sure you're happy with your smile the entire time so you can achieve your goals!
Affordable Full Mouth Reconstruction in Arlington, TX
We talk about the makeover with you and create a treatment plan that is specific to your requirements. Cosmetic dental procedures have never been better, and procedures that were once unthinkable are now possible because to our team's use of high-quality materials and technology. We'll take into account your budget and only offer treatments that we believe are both required and affordable. The treatment will then begin as necessary.
Treatment might take anywhere from a few months to many years from start to finish. The services you need and the amount of treatments you need will influence this. Some of the most common procedures performed during a makeover include veneers, dental implants, composite fillings, bonding, whitening, and crowns. If you need or want a smile makeover, give us a call right now and we'll be pleased to answer any and all of your questions. Arlington's best full-mouth reconstructive dentist is Collins St Dental. Our dentists will work closely with you to ensure that your dental health is in excellent condition and that you have a smile to be proud of. Make an appointment with one of our representatives right away.
Arlington's #1 Dentist for Full Mouth Restoration- Affordable Smile Makeovers Near Me - Full Mouth Reconstruction in Arlington, TX
The Proof is in Our Patients
179 5-star reviews in Dallas-Fort Worth, TX and counting…
Had a great experience with Dr. Josh. He was thorough with my dental check up and professional at all times. He informed me of preventative/pro-active measures to maintain health teeth & gums. Likewise, he was able to get rid of calculus/plaque build up on my lower central & lateral incisors. I would recommend him to anyone that is wanting a pleasant time & helpful dentist!FYI - He's the one with the crazy hair and nice beard.
I had an emergency on a Saturday and they were able to get me in immediately, literally within 10 minutes. The staff was friendly and efficient, and diligent about getting my insurance sorted out and explaining costs upfront. Dr. Bolus was awesome in explaining to me the treatment plan and effectively resolved my emergency issue within 30 minutes and made sure I was as comfortable as possible. I came back for my annual cleaning 4 months later and that experience was similarly quick, thorough, efficient and comfortable.
My wife and I came in at 5:00, although they are open until 7pm. It was very easy to get in and be seen!! The Dentist was young but quite knowledgeable! Handsome also, as my wife says. The staff and nurses were very prompt in explaining everything and were great as well. Dr. JOSH is amazing!! Thank you Collins St. Dental!!!
Usually I am very nervous/anxious when going to the dentist but today I felt completely at ease here. Ally was so sweet when I spoke to her to make my appointment and she is just as sweet in person. Everyone there is so kind and Doctor Bolus was the kindest gentleman I've met in Dentistry. I would highly recommend Collin St Dental to everyone!
My first experience was with Ally. I had just moved and a few days later I was in horrible pain. She talked to me and made me feel at ease. Meet with Dr Bolus and he was amazing! He diagnosed the problem and took great care of me. My husband and I have had several visits and have had a great experience with all the staff! They are the best!!