Dental Implants in Dallas-Fort Worth, TX
Affordable Implants in Arlington, TX
Missing teeth can be embarrassing, causing people to hide their smiles and lose self-confidence. Bacteria can quickly infect missing teeth, causing neighboring teeth to shift out of place and making it difficult for patients to speak or eat properly.
Dental implants can be used to replace missing teeth in parts of the mouth. A partial denture was once your only choice for replacing a missing tooth. While these dentures are still effective for many individuals, there is an alternative that is more lasting and stable.
Dental implants are tooth-replacement devices that use artificial dental roots to replace missing teeth. Implants support permanent or removable replacement teeth that are made to match your natural teeth. Implants are surgically implanted deep into the jawbone, where they bond with the body and form a permanent part of your smile.
Reasons for Dental Implants
The most common reason for requiring an implant is that one or more of your teeth are missing. Implants act independently and merge with your body over time, unlike other treatment choices that are detachable or damage nearby teeth.
They can be used to replace both the tooth's roots and the crown's top. They can last for decades without requiring any special treatment other than yearly checks to ensure that there are no hidden problems with your bone structure or deterioration.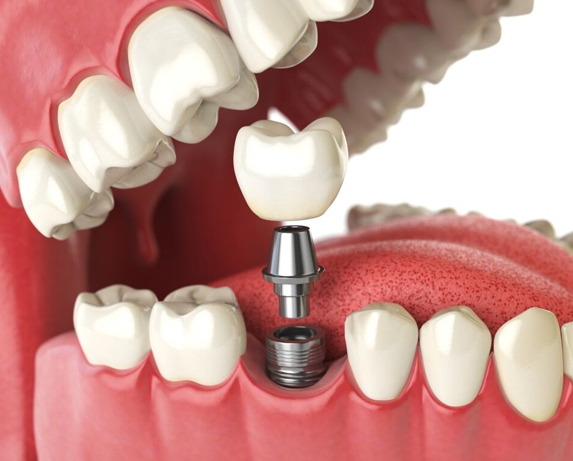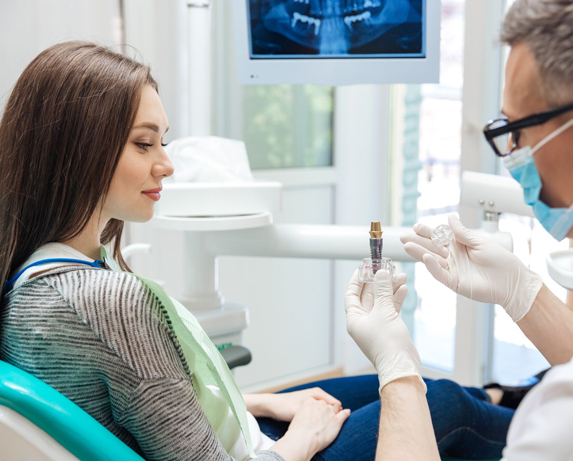 Candidates for Dental Implants in Arlington, TX
In the vast majority of cases, anyone who is healthy enough to have a standard dental extraction or oral surgery can be considered for a dental implant. They must also be committed to good oral hygiene and regular dental visits.
Patients who are heavy smokers, have uncontrolled chronic conditions like diabetes or heart disease, or have had head/neck radiation therapy should all be evaluated individually. You must be in good health and vital to have oral surgery. Before the operation, we'll inspect your teeth and mouth, as well as go over your medical history.
In order for the implant to heal and fuse properly, patients must have good bone structure. If you have bone loss in the area where the implant will be put, we may recommend a bone graft before proceeding with any additional treatment. Whether you're considering dental implants, contact our office today to find out if they're appropriate for you!
Dental Implants Procedure
We start with special x-ray images that allow us to plan out the implants and their placement. We then provide sedation to put you into a deep sleep while the surgery is being done. We then insert the implant deep into the bone and allow it to heal on its own. The implant will fuse with the actual bone surrounding it in around six months to a year. Once the implant is healed and fused, a new restoration can be made for the top of it.
Our dental implant procedures are made to look great and last! You will be able to have confidence in your smile once again and be able to have teeth that can function like they once did! If you need an implant or want to inquire more about the procedure, call us now and we can help answer any of your questions.
Arlington's Best Affordable Dental Implants Dentist - Dental Implants Near Me - High Quality Dental Implants in Arlington, TX
The Proof is in Our Patients
179 5-star reviews in Dallas-Fort Worth, TX and counting…
Had a great experience with Dr. Josh. He was thorough with my dental check up and professional at all times. He informed me of preventative/pro-active measures to maintain health teeth & gums. Likewise, he was able to get rid of calculus/plaque build up on my lower central & lateral incisors. I would recommend him to anyone that is wanting a pleasant time & helpful dentist!FYI - He's the one with the crazy hair and nice beard.
I had an emergency on a Saturday and they were able to get me in immediately, literally within 10 minutes. The staff was friendly and efficient, and diligent about getting my insurance sorted out and explaining costs upfront. Dr. Bolus was awesome in explaining to me the treatment plan and effectively resolved my emergency issue within 30 minutes and made sure I was as comfortable as possible. I came back for my annual cleaning 4 months later and that experience was similarly quick, thorough, efficient and comfortable.
My wife and I came in at 5:00, although they are open until 7pm. It was very easy to get in and be seen!! The Dentist was young but quite knowledgeable! Handsome also, as my wife says. The staff and nurses were very prompt in explaining everything and were great as well. Dr. JOSH is amazing!! Thank you Collins St. Dental!!!
Usually I am very nervous/anxious when going to the dentist but today I felt completely at ease here. Ally was so sweet when I spoke to her to make my appointment and she is just as sweet in person. Everyone there is so kind and Doctor Bolus was the kindest gentleman I've met in Dentistry. I would highly recommend Collin St Dental to everyone!
My first experience was with Ally. I had just moved and a few days later I was in horrible pain. She talked to me and made me feel at ease. Meet with Dr Bolus and he was amazing! He diagnosed the problem and took great care of me. My husband and I have had several visits and have had a great experience with all the staff! They are the best!!