Dental Crowns in Dallas-Fort Worth, TX
Affordable Dental Crowns in Arlington, TX
Over time, your teeth may be damaged. This can happen for a multitude of reasons, such as tooth decay, trauma, or long-term use. The shape and size of your teeth might change throughout time. Dental crowns are tooth-shaped "caps" that are placed on top of your natural tooth.
The crown improves the tooth's shape, size, strength, and appearance. A dental crown is necessary to protect a tooth that has been significantly injured or impaired.
The crown is made out of either porcelain or ceramic and is meant to last for many years. We offer CEREC crowns as well, which are made right here in the office. CEREC crowns don't require a second appointment to place the permanent restoration.
When are Dental Crowns Needed?
Crowns are usually needed when a tooth is cracked, damaged, chipped, or shattered. This might occur as a result of an injury or through regular use over time.
Teeth that have a lot of filling may need to be crowned at some point. Similarly, if you've recently had a root canal, we strongly advise crowning the tooth to prevent it from fracturing.
Crowns are able to restore the look of the tooth while improving functionality. They are great solutions for long lasting results to keep your teeth and gums healthy and for you to have a confident smile.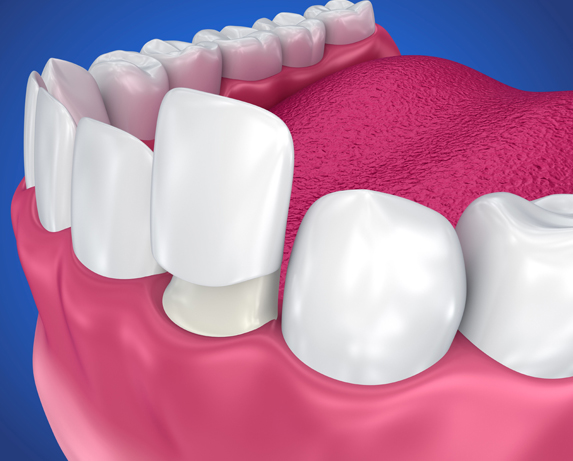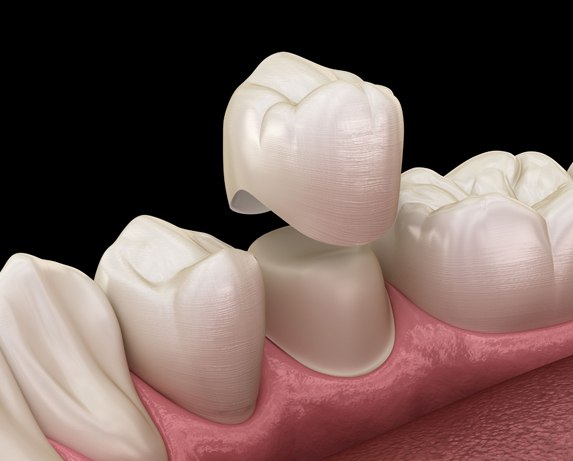 Dental crowns are ideal for any patient who requires teeth restoration. We will perform an exam to determine if and when a crown may need to be placed.
X-rays can help us to identify any issues with cracks or deep breaks that would benefit from a crown. You can choose between porcelain, ceramic, or CEREC crowns in our office.
If you have a damaged or decayed tooth, get in touch with our office to schedule your appointment and see if dental crowns are the right choice for you.
Dental Crown Procedure
The damaged tooth is first filed down to form a small foundation for the crown. The permanent crown is made using impressions taken. You'll need to return for a second appointment to have the permanent crown set. Digital impressions taken in the office for CEREC crowns allow us to construct the permanent crown while you wait. Because the treatment is done while you wait comfortably in the office, CEREC technology eliminates the need for a second or even third session. The crown will last for years, if not decades, before we recommend replacing it with a whole new restoration.
Our Arlington office will ensure that your crown is properly fitted. We'll also make sure your bite is comfortable and your smile is stunning! We'll ensure you're happy with your smile and the health of your teeth. If you're looking for affordable dental crowns in Arlington, give us a call now. If you suspect you might need a crown or need one replaced, give us a call immediately and we'll schedule an appointment for you as soon as possible.
Arlington's #1 Restoration Dentist - Dental Crowns Near Me – Affordable Dental Crowns in Arlington, TX
The Proof is in Our Patients
179 5-star reviews in Dallas-Fort Worth, TX and counting…
Had a great experience with Dr. Josh. He was thorough with my dental check up and professional at all times. He informed me of preventative/pro-active measures to maintain health teeth & gums. Likewise, he was able to get rid of calculus/plaque build up on my lower central & lateral incisors. I would recommend him to anyone that is wanting a pleasant time & helpful dentist!FYI - He's the one with the crazy hair and nice beard.
I had an emergency on a Saturday and they were able to get me in immediately, literally within 10 minutes. The staff was friendly and efficient, and diligent about getting my insurance sorted out and explaining costs upfront. Dr. Bolus was awesome in explaining to me the treatment plan and effectively resolved my emergency issue within 30 minutes and made sure I was as comfortable as possible. I came back for my annual cleaning 4 months later and that experience was similarly quick, thorough, efficient and comfortable.
My wife and I came in at 5:00, although they are open until 7pm. It was very easy to get in and be seen!! The Dentist was young but quite knowledgeable! Handsome also, as my wife says. The staff and nurses were very prompt in explaining everything and were great as well. Dr. JOSH is amazing!! Thank you Collins St. Dental!!!
Usually I am very nervous/anxious when going to the dentist but today I felt completely at ease here. Ally was so sweet when I spoke to her to make my appointment and she is just as sweet in person. Everyone there is so kind and Doctor Bolus was the kindest gentleman I've met in Dentistry. I would highly recommend Collin St Dental to everyone!
My first experience was with Ally. I had just moved and a few days later I was in horrible pain. She talked to me and made me feel at ease. Meet with Dr Bolus and he was amazing! He diagnosed the problem and took great care of me. My husband and I have had several visits and have had a great experience with all the staff! They are the best!!