Dental Bonding in Dallas-Fort Worth, TX
What is Dental Bonding?
We may recommend dental bonding if you have minor flaws in the front of your smile. Bonding is a cosmetic procedure that conceals tiny defects that make you feel self-conscious about your appearance. Bonding uses a tooth-colored composite material that matches your current dentition. This ensures that it does not stand out from the rest of the tooth.
The "bonding" is a composite resin that fills in the gaps where your tooth has broken and restores it to its original appearance.
Unlike a crown, the composite color will be close to the color of the tooth, allowing it to blend in with the rest of your smile!
Why would you choose dental bonding for a minor chip in your tooth?
Many people are concerned about their smile, but fixing chips and cracks is also vital for your oral health. It promotes good chewing and prevents future damage that could threaten the health of adjoining teeth and necessitate costly restorations.
Cosmetic Dental Bonding
Bonding might be needed if you have slight cosmetic problems that are getting in the way of your smile looking its best.
You may have discolored or stained teeth, as well as chips, fissures, or gaps between your front teeth. Bonding can endure for many years before needing to be renewed, and it can be done just as effortlessly as it was the first time.
We might suggest bonding as a noninvasive way to perfect your smile and make sure your teeth are functioning as best as they possibly can!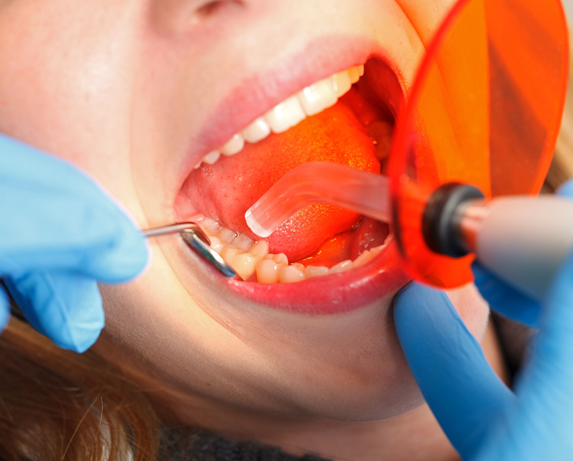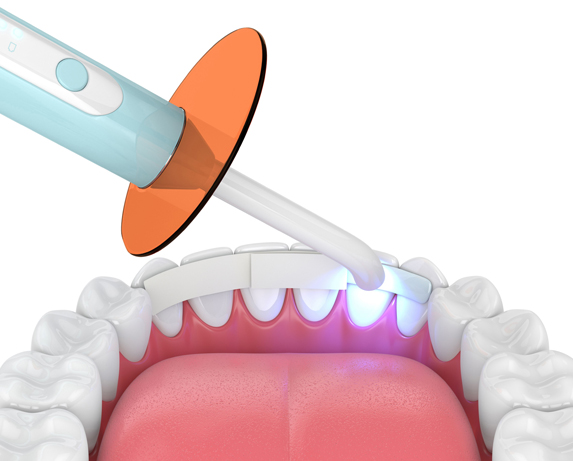 Bonding is generally performed without the need of anesthesia, making it a safe and effective procedure for the majority of patients. Bonding is particularly beneficial to adult patients who have generally healthy teeth. It's made of the same substance as fillings, so it's stable and dependable. When compared to other dental treatments, bonding is a relatively simple and straightforward procedure. In most cases, the entire procedure takes one to two hours, following which you will be able to walk out of our office with a significantly enhanced grin. When you come in for treatment, your dentist will begin by determining the best bonding material color for your teeth. It's then cured in place to keep it from slipping or shifting.
Dental Bonding in Arlington, TX
The teeth are coated with a bonding substance. This aids in the bonding of the composite to the tooth. The color of the material we'll be utilizing is then matched to the tooth. The material is positioned and detailed. This makes it look more natural and realistic, and it blends in with the rest of your grin. After that, the material will be cured and hardened in situ. It will not break or tumble out of place as a result of this. Your new bonding will last for several years before we recommend that it be repaired or updated to guarantee that it always looks its best.
Dental bonding is a long-term operation that can help restore some cosmetic and functional qualities of your teeth, as well as dramatically improve the appearance of your smile! Call us today if you have any questions regarding dental bonding or would want to learn more about the procedure.
Affordable Dental Bonding in Arlington, TX - Dental Bonding Near Me – Arlington's Best Restoration Bonding Dentist
The Proof is in Our Patients
179 5-star reviews in Dallas-Fort Worth, TX and counting…
Had a great experience with Dr. Josh. He was thorough with my dental check up and professional at all times. He informed me of preventative/pro-active measures to maintain health teeth & gums. Likewise, he was able to get rid of calculus/plaque build up on my lower central & lateral incisors. I would recommend him to anyone that is wanting a pleasant time & helpful dentist!FYI - He's the one with the crazy hair and nice beard.
I had an emergency on a Saturday and they were able to get me in immediately, literally within 10 minutes. The staff was friendly and efficient, and diligent about getting my insurance sorted out and explaining costs upfront. Dr. Bolus was awesome in explaining to me the treatment plan and effectively resolved my emergency issue within 30 minutes and made sure I was as comfortable as possible. I came back for my annual cleaning 4 months later and that experience was similarly quick, thorough, efficient and comfortable.
My wife and I came in at 5:00, although they are open until 7pm. It was very easy to get in and be seen!! The Dentist was young but quite knowledgeable! Handsome also, as my wife says. The staff and nurses were very prompt in explaining everything and were great as well. Dr. JOSH is amazing!! Thank you Collins St. Dental!!!
Usually I am very nervous/anxious when going to the dentist but today I felt completely at ease here. Ally was so sweet when I spoke to her to make my appointment and she is just as sweet in person. Everyone there is so kind and Doctor Bolus was the kindest gentleman I've met in Dentistry. I would highly recommend Collin St Dental to everyone!
My first experience was with Ally. I had just moved and a few days later I was in horrible pain. She talked to me and made me feel at ease. Meet with Dr Bolus and he was amazing! He diagnosed the problem and took great care of me. My husband and I have had several visits and have had a great experience with all the staff! They are the best!!